Service
Family planning
At the Family Planning Clinic, we want to maintain and promote your sexual health. Our services are provided for both adolescents and adults.
Contraception Clinic
At the Contraception Clinic, we will help you to find the most suitable method of birth control for you. We will help you to start using the method of contraception and carry out follow-up checks. In addition, you can get advice and help with any problems related to prevention.
For contraceptive counselling, students should turn primarily to the school nurse. Secondary school pupils (such as high schools and vocational schools) have access to family planning or student healthcare services, while polytechnic and university students turn primarily to the Student Health Service (FSHS).
Free contraception for young people under the age of 25
All young people under the age of 25, including foreign students and refugees, regardless of gender or home municipality, can receive free contraception in the Wellbeing Services County of Ostrobothnia.
The aim is to arrange comprehensive contraception services that include counselling to promote sexual health and wellbeing as well as the prevention of sexually transmitted diseases, ie. venereal diseases, and unwanted pregnancies. Free contraceptives are given only for the purposes mentioned above, not for treatment of menstrual disorders as for example pain or abnormal bleeding.
Get in touch with your own municipality's contraception counselling service. Contact details are found further down.
Students should contact the Finnish Student Health Service via their own web site and receive instructions from there regarding free contraception.
The contraception trial includes all contraceptives such as IUDs, contraceptive capsules, patches and rings, birth control pills, condoms and oral dams.
Infertility
If pregnancy has not started after a year of regular trying, it may be appropriate to seek infertility tests. In the Family Planning Clinic, we carry out preliminary surveys and examinations as well as give you referrals for further examinations.
Abortion
If the pregnancy is unwanted and you consider an abortion you can contact the Gynaecological Outpatient Clinic directly. You don´t need a referral from the Health Centre any more since the legislation on abortion changed 1.9.2023. You can find contact information from the link below.
Papa test
Cervical cancer screening (papa test) usually takes place in the Family Planning Clinic. All women between the ages of 30 and 65 are invited to a papa test every five years.
We also take papa tests on women, who use contraception.
Payment for non-cancelled or late cancelled booking. If you cannot arrive for the scheduled visit, you must cancel your appointment no later than the previous working day. If you do not cancel your booking and do not arrive, you will be charged a fee of EUR 51.50. The fee is charged to anyone over the age of 18. No fee will be charged if there is a valid reason for not cancelling the booked time.
Assessment of a minor's ability to make decisions about their treatment
Children have the right to participate in decision-making concerning the management of their affairs in accordance with their level of development.
You can read more here.
Contact information
Maternity and Family Planning Clinic in Alaveteli
Misterhultintie 4
68410 Alaveteli
tel. 040 489 2304, telephone hours from 09:30-10:30 
Maternity and contraception telephone counselling:
Mon–Fri from 08:00-10:00, tel. 06 786 1230
Maternity and Contraceptive Clinic in Pietarsaari: Kolpintie 7 / Pohjanlahdentie 1, PO Box 111, 68600 Pietarsaari. Entrance H, 1st floor
Maternity and Family Planning Clinic in Luoto: Health Centre, Pajutie 2B, 68570 Luoto
Maternity and Family Planning Clinic in Ähtävä: Health Centre, Bärklarintie 3, 68810 Ytteresse
Maternity and Family Planning Clinic in Pännäinen: Wellbeing Centre, Vaasantie 1, 68910 Pännäinen
Maternity and Family Planning Clinic in Uusikaarlepyy: Maternity Clinic, Mathesiuksenkatu 9, Entrance C, 66900 Uusikaarlepyy.
Phone service on weekdays from 09:00-10.00
Maternity and Family Planning Clinic in Oravainen, tel. 050 597 8458, Öurintie 25, 66800 Oravainen
Maternity and Family Planning Clinic in Vöyri, tel. 050 563 9027, Lääkärintie 3, 66600 Vöyri
Maternity and Family Planning Clinic in Mustasaari (Sepänkylä)
Mustasaari Health Centre, entrance C
Vanha Karperöntie 17B, 65610 Mustasaari
You can book a telephone appointment online or by calling tel. 06 218 4003, Mon–Fri from 09:00-9:30.
Appointment booking
Appointment booking Mon–Fri from 09:00-11:00 and from 12:30-13:00, tel. 06 218 1412
Phone service by public health nurse (also appointments): Mon–Fri from 09:00-10:00 and from 12:30-13:00, tel. 06 218 1411.
You can cancel your appointment by sending an SMS to 040 671 8134. Please provide your name, date of birth and time to be cancelled. If you do not receive a response message, your cancellation did not arrive. In that case, please contact us again.
Family Planning Clinic address: Tammikaivontie 4, 65100 Vaasa, 4th floor
Entrance from the pond side.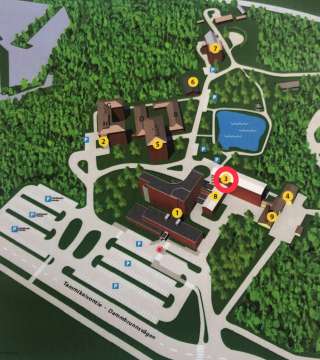 Electronic services
Residents of Vaasa, aged 18–50, can book an appointment online to a public health nurse. (Note: Doctor's appointment only by telephone from the appointment booking number.)
To make an appointment to your nurse, follow these steps:
contraception; 60 min when you want a pill, a coil or a capsule
changing contraception method; 60 min if you are not satisfied with your current contraception and want to change the method
changing contraception; 60 min if you are a new client at the Family Planning Clinic and you are satisfied with your current method of contraception
* control time 45 min' if you already have a treatment relationship with the Family Planning Clinic in Vaasa and need a new prescription for the current contraception
If you are English-speaking, please contact us by telephone!
If you have technical problems using the eHealth portal, send an e-mail to eterveys@ovph.fi
Laihia Health Centre
Vallinmäentie 43
66400 Laihia
Electronic services
You can book an appointment for family planning electronically on the link below, or also by telephone on 040-184 2313 or 040 7033298 from 11:00-11:30.
Please notice that we have reduced operation during the summer 13.7-13.8.2023. Make sure to get your contraceptives in time for them to last all summer.
Maalahti-Korsnäs Health Centre, Tamppitie 2, 66100 Maalahti
Maalahti Maternity and Family Planning Clinic: Tue–Fri at 12:00-12:30, tel. 050 530 5248
Petolahti Maternity and Family Planning Clinic: Thu–Fri at 12:00-12:30, tel. 040 650 8029
Bergö Maternity and Family Planning Clinic: Fri at 12:00-12:30, tel. 040 650 8029
Korsnäs Health Centre, Norrbyntie 9, 66200 Korsnäs
Korsnäs Maternity and Family Planning Clinic: Mon–Fri from 12:00-12:30, tel. 050 464 1646
Närpiö Family Counselling Centre, Närpiöntie 4, 64200 Närpiö
Mothers living in Kaskinen are serviced at the Närpiö Maternity Clinic.
Telephone nursing services: Mon–Fri from 09:30-10:00
Tel. 06 218 7601
You can also leave a call request Mon–Fri from 08:00-12:00, and you will be called back no later than the next working day.
Online appointment booking (only available in Finnish and Swedish)
Kaskinen Health Centre
Sulkukatukatu 11 A
64260 Kaskinen
Tel. 045 232 22 00
Fax 06 2227351
Public health nurse Gerd Metsäranta, tel. 045 129 59 13
Kristiinankaupunki Maternity Clinic
Lapväärtintie 10
64100 Kristiinankaupunki
Appointment booking and telephone counselling Mon–Fri from 08:30-09:30, tel. 06 218 6012
The head nurses of the maternity- and family planning clinics:
Yvonne Sundström, yvonne.sundstrom@ovph.fi (Kruunupyy, Luoto, Pietarsaari, Pedersöre, Uusikaarlepyy, Vöyri, Mustasaari)
Marjaana Carlsson, marjaana.carlsson@ovph.fi (Vaasa, Laihia, Maalahti-Korsnäs, Närpiö)
Ylihoitaja Susann Granlund, tel. 044 424 9105, susann.granlund@ovph.fi